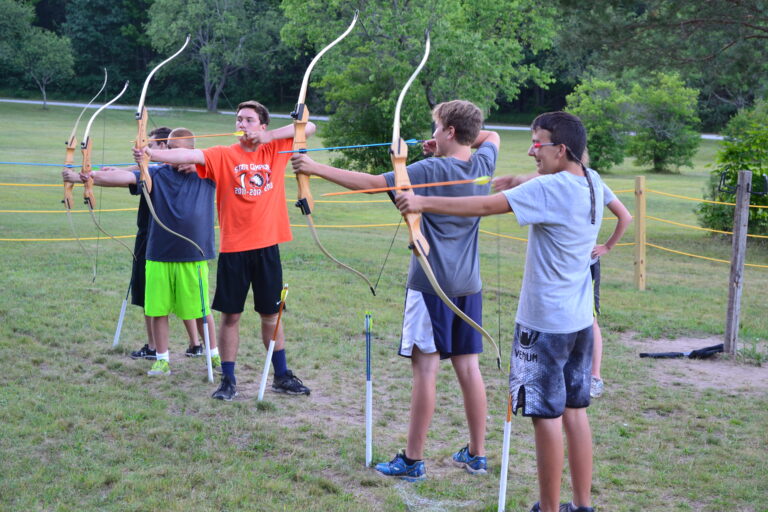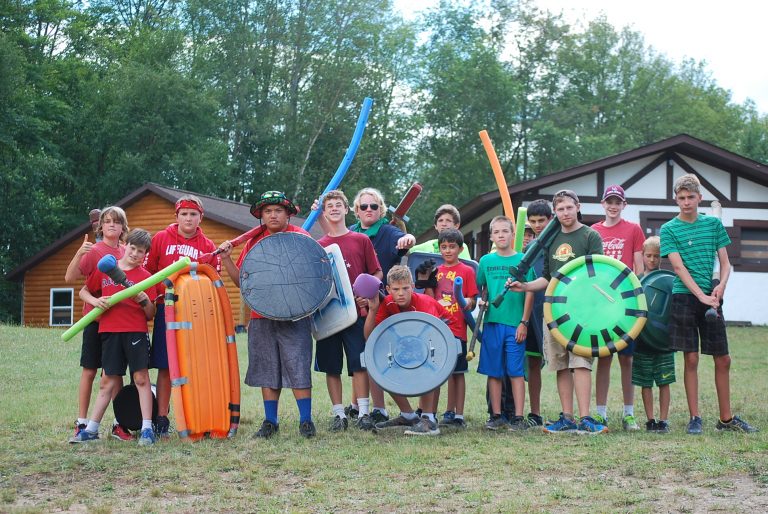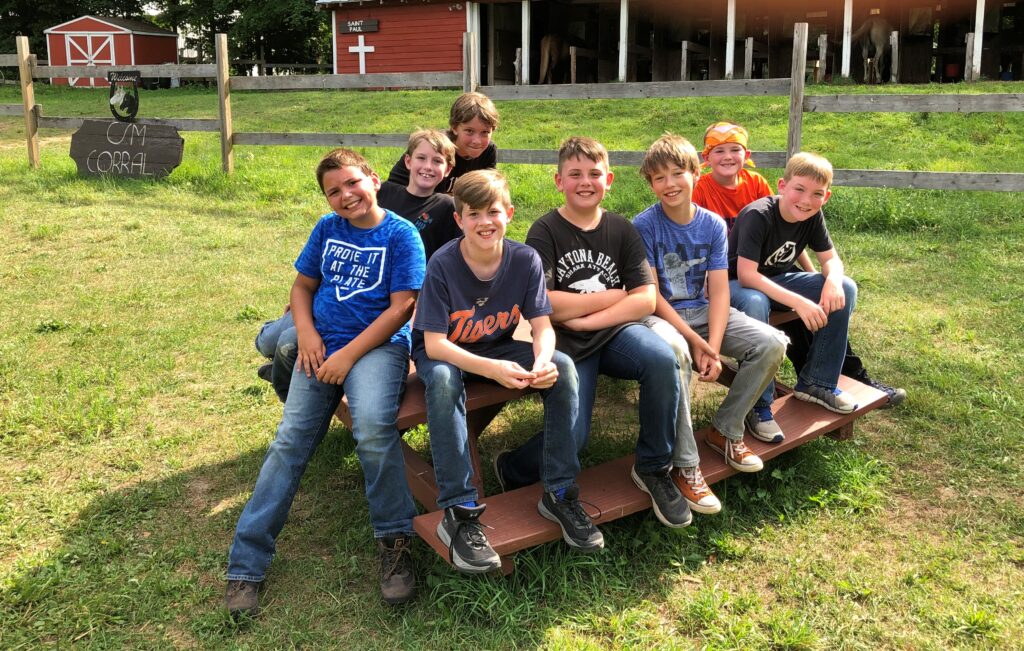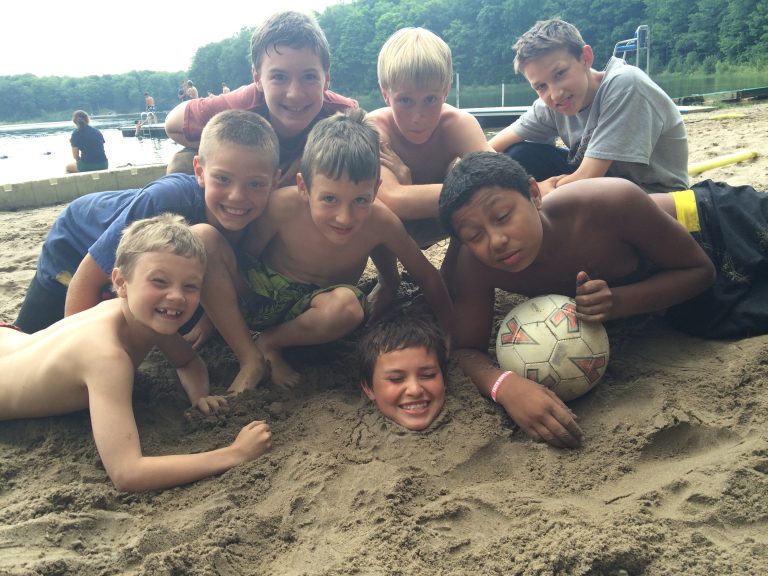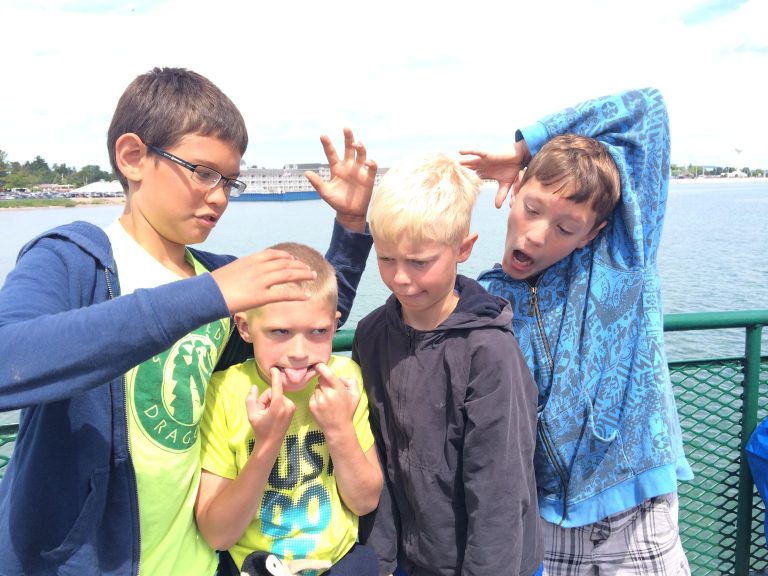 Campers at CSM stay in a cabin with other campers of their own age. Campers can request a cabin with friends from home. Cabins house between 10 and 18 campers, sleeping on bunk beds. Each camper is provided shelving to store personal items. Campers are responsible for keeping their area of the cabin clean and tidy.
At least two Senior Counselors aged 18 or over stay in each cabin with the campers to ensure supervision. Campers do not spend any time in their cabin without adult supervision. Every camper spends one program a day at rest period in their cabin, re-charging their energy so they are ready for the remainder of the busy and active day.
Cabin assignments are made on check-in day. Campers are put into teams for their activities at camp, but the teams are different to the cabin groups so that the boys have every chance to make many new friends during their stay at CSM.
One-Week Mini Camps
In 2002, CSM began offering one-week "mini" camp sessions, developed for younger campers whose parents think may have difficulty being away from home. Mini Camp gives campers the opportunity to ease into the CSM program and allows them to get a taste of what camp has to offer.
CSM has traditionally been a two-week experience, since the maturation and growth which occurs in campers comes together during the second week. If they need to test the waters at Mini Camp, or are short on time, most campers return the next summer for a full two-week session – or stay for an additional week the same year!
Mini Camps are open only to campers age 8-13 and include the beach, team building, target ranges, camp fires, arts & crafts, horseback riding, play in our one-of-a-kind adventure games and much more. There are a number of Mini Camp sessions to choose from throughout the summer. Campers age 14-16 are required to attend our two-week session. Please refer to the Formation notes in the Two-Week Session to the right to help you understand our reason for this.
Camp Sancta Maria offers our campers a summer full of fun, personal growth and spiritual development.
Two-Week Sessions
Leave the phone, video games and television at home—you won't need them for this camp! Your two weeks at CSM are going to be an action packed experience filled with new adventures, activities and trips!
When your son attends a full Two-Week Session, he will experience everything CSM has to offer for his age range at camp. When you pick up your son he will have tried several new foods and activities as well as be more independent and self reliant, with new skills for solving his own problems.
The Junior Camper Program (for ages 8 to 10) is all about fun, imagination and learning. Boys will have the opportunity to go horseback riding, swimming, canoeing, kayaking, experience our ropes course, arts & crafts, and play in our one-of-a-kind adventure games. The goals for the junior campers are to become comfortable being away from home, learning and living out the camp rules, learning to follow the daily schedule, learning and participating in the many camp games and activities, actively participating in the faith life at camp, making new friends, and becoming comfortable in interacting with the senior counselors.
The Intermediate Camper Program (for ages 11 to 13) is an extension of our Junior program. These boys will build on their skills in swimming, horseback riding, archery, canoeing, kayaking, ropes course, zip line, and rock wall. The goals for this age are for the campers to better understand and follow the rules of camp, learn to form good communities in their cabin and teams, try new activities, help the younger campers during all-camp activities, express their faith and engage in faith conversations, form healthy mentor-mentee relationships with their counselors, and get into the spirit of camp.
Formation
The difference between a one- and two-week trip is so vast that, while we offer the two-week session to all our campers (8-16 years old), we offer only the two-week session for our senior campers (14-16 years old) due to the impact it has on them. To accomplish this growth, the standard two-week session is critical for boys. The goals for the senior campers are to live out and model the rules of camp, to become leaders at camp and participate fully in all programs, form a brotherhood with their cabin, team, and age group, to participate fully in and express well their own faith, engage in deeper conversations about faith and life, and exhibit leadership qualities and characteristics to become a junior or senior counselor in the future.
The two-week trip offers a profound formation experience in which the boys are transformed spiritually and humanly as they grow in awareness of and relationship with God, self, and others. The community and friendships built during the two-week trip is much more profound and lasting than the one week trip.
Over the years, we have come to see that it takes 3 days for a boy to become settled and for his heart to open. In the remaining week and a half, their personal sense of accomplishment and their relationship with God notably take off!
Camp Sancta Maria offers our campers a summer full of fun, personal growth and spiritual development. This is just a taste of the programs your camper will experience in 2023!
Boys' Horse Camp (ages 11-16)
| | |
| --- | --- |
| Name | Boys' Horse Camp |
| Length Options | One-Week Camp |
| Gender | Boys |
| Age | 11-16 years old |
| Type | Overnight / Sleep Away Camp |
| Trip Destination | Long, off property ride to Huffman Lake (all campers) |
| Popular Camp Activities | Horseback Riding, Swimming, Canoeing, Kayaking, Campfires, S'mores, Arts & Crafts, Archery, Field Sports |
Boys' Horse Camp
One of the most popular camp programs at CSM is our horseback riding program. For those campers who want to spend extra time focused on the horses beyond what the regular Boys' Camp sessions provide, we offer a one-week Boys' Horse Camp. (NOTE: We recommend boys also attend the regular Boys' Two-Week Camp or Mini Camp in order to enjoy the full CSM camp experience.) Boys' Horse Camp is centered around the corral, providing campers the opportunity to spend every day caring for, learning about, and riding these beautiful animals.
The week begins with time for the campers to get comfortable around the horses, learning the do's and don'ts. As the week progresses, many aspects of caring for a horse are taught: brushing, feeding, bridling, saddling, and even mucking the stalls! Of course, your camper will also have ample time riding! During Horse Camp, every camper will participate in two riding programs each day, with each lasting at least one hour.
The week concludes with three great events:
The Big Ride—A ride to beautiful Huffman Lake. This is a 26-mile relay ride off camp property, that will put all the skills learned during the week into practice.
Road to The Final 4—This competition will test each camper's knowledge of the horses. After several rounds of competition, a champion will be declared!
Pony Olympics—These are a series of games and competitions played over the course of a day on horseback—games like: Trap, Hide and Seek, and Capture the Flag.
A big draw for our returning Horse Camp wranglers is the lure of the coveted Bronc Ride. A hard-earned bounty for only our most advanced riders, these buckaroos spend their time at the corral preparing for a 26-mile ride to the Jordan River Valley. After working up a man-sized appetite, they feast on a delicious chuck wagon dinner before making their way back to the corral!
Safety is a #1 concern with all of CSM's activities. Our corral instructors are all trained according to the ACA Equestrian Management and the State of Michigan standards. Campers are always supervised by a trained staff member and appropriate safety equipment is worn whenever riding, including an ASTM approved riding helmet. (CSM provides helmets; however, campers may wear their personal helmet if it is ASTM approved and deemed in good condition by CSM's riding staff).
Camp Sancta Maria offers our campers a summer full of fun, personal growth and spiritual development!